Working in remote teams has become the "new normal" of business life today. Some companies were already transitioning to work from home or partial remote roles; however, many have been forced to embrace remote work recently. Remotely distributed teams require organizations to leverage their workforce effectively and bring the most talented and knowledgeable people together in new ways to address their most pressing problems. With more companies transitioning to remote working in the coming years, managers must understand how to use collaborative tools to promote strong company culture and boost employee engagement.
Why Effective Collaboration is Essential for Remote Teams
At first glance, managing a remote team may not seem very different from leading one in person, but there are some significant distinctions. The most obvious is the fact that team members don't occupy the same physical space. Since they don't generally see one another when communicating, they lack some of the visual cues people take for granted when meeting face-to-face. It can also be more difficult for managers to promote collaboration, especially for team members who feel disconnected and disengaged from the rest of the team. 
Maintaining a positive company culture that promotes collaboration can be a challenge for first-time remote managers. It makes sense that team members would interact differently from remote offices than they would in a company conference room, but managers have been working with remote teams for decades. It's not impossible. It's just different. Finding effective tools, maintaining consistent communication, and setting clear expectations help remote teams just as they do for those in-office. 
Why Your Company Culture Matters (Even for Remote Teams)
Organizations that make concerted efforts to cultivate and manage their workplace culture tend to be more innovative and do a better job of retaining their top talent. Much of that is due to the strong correlation between company culture and employee engagement. When people feel like the company they work for is committed to goals and values they believe in, they're more likely to be engaged and proactive in their work. Recognizing your employees' work, supporting their careers, and creating a culture of communication improves performance and productivity.  Employees in these environments are more likely to hold themselves accountable while upholding the company's core values.
Maintaining a high engagement level is important for all successful teams, though remote teams may feel more pressure to be self-motivated and proactive when they're working from home. Some employees will thrive in this environment, while others will need more guidance. Trusting your teams to manage their own schedules and communicate information effectively is important, and setting clear guidelines upfront will help. Remote teams with a healthy and collaborative culture are more likely to be highly engaged and productive than teams managed through unclear methods, lack consistent goals, or are strictly based on how long the person sits at their desk.
Using Assessments to Improve Remote Team Engagement
Managing remote employees may be different from managing people in an office, but it still comes down to the same principles: managing personalities. As in every workplace, people have their routines, capabilities, and preferred management types.
Understanding an individual's differences is critical when managing a workforce. Employees who thrived in an office setting might find themselves adrift when they cannot get face-to-face interaction with coworkers. Conversely, quieter employees who dreaded small talk at office parties might suddenly become high performers in a remote context.
Predicting how an employee will respond to new work challenges doesn't involve guesswork or gut instinct. Behavioral and personality assessment data can create a detailed profile of how employees will likely react when placed in specific situations. Employees who tend to be more extroverted and social may need more focused interaction than those who like to keep to themselves. Understanding behavioral tendencies is also important for promoting productivity and cultivating company culture. 
Cognitive assessments measure more than natural aptitude; they also showcase how well an employee learns and adapts to new information. This is critical for shifting to a remote workplace, especially when people are forced to transition quickly. There is often less information and direct guidance in an unplanned change, so people need to be comfortable functioning independently and ask for help. Cognitive assessment data can help identify which employees will need more direct guidance after the initial shift and are more likely to adapt to remote working quickly. 
5 Collaborative Tools to Boost Productivity When Working Remotely
With the right technology, remote leaders can easily stay connected with their team and ensure everyone is doing their part to fulfill the team's objectives. In addition to a good webcam and a quality headset, every remote team should consider some essential collaboration tools for business.
Video Conferencing Software
Traditional conference lines make it difficult to manage a meeting because visual queues are out. Without these cues, people tend to talk over each other, which can lead to frustration.
Video conferencing programs like WebEx, GoToMeeting, Zoom, or Adobe Connect make it possible for remote team members to see and interact with the rest of their team. These programs also allow participants to use features like hand icons and other tools to help manage the conversation.
Telepresence technology takes this a step further, with more sophisticated programs to make participants feel like they're meeting in person. These programs include Cisco's TelePresence series and Polycom high-definition conferencing.
Instant Messaging Tools
Sometimes team members want to discuss without setting up a meeting, or they need to get someone's attention right away. Instant messaging tools and social software like Slack, Microsoft Teams, and Cisco Jabber allow them to check in with team members in a less formal way, like tapping a coworker on the shoulder.
These programs aren't just good for project planning and brainstorming. They're also a great way to build relationships. Team members can use them for casual conversations, questions, team-building activities, and even parties.
Pro
ject Management Software
When team members don't see each other every day, it's easier to lose sight of what they're each doing and how much time they're spending on a particular project. That's why it's essential to use a project management system or software everyone is familiar with. These programs make each project visible and trackable. They also allow team members to easily communicate the next step, whether providing data or passing along a document for review. They can share files, assign tasks, identify dependencies, and check deadlines.
A few popular project management software programs include Basecamp, Teamwork, and Jira. They are particularly useful for teams implementing agile scrum methodology as a way of managing their workloads.
Time Tracking Software
When team members are scattered across several projects or time zones, it can be difficult to determine when key tasks need to be finished to keep deliverables on track. Or to track billable hours. Time programming tools like TimeFox, Clockify, and Kronos allow teams to keep track of their work and project hours, which is especially helpful if you're managing many clients or projects to monitor how much time you're investing in each one.
Time tracking tools can also improve accountability, ensuring that all team members are putting in the appropriate amount of work, and effectively managing their workloads. Setting up alerts for key scheduling milestones can also help to improve decision-making.
Document Storage and File Sharing Tools
One of the major benefits of remote teams is their ability to collaborate over great distances and different time zones. As with any collaborative project, it's helpful to have access to files anywhere, anytime, and they must be stored securely. 
Additionally, your team needs to be able to share documents and edit them in real-time. Dropbox, GoogleDrive, and Microsoft OneDrive are all good tools for this. Cloud-based productivity software like Google's G-Suite (which includes Google Docs, Sheets, and Slides) and Microsoft Office 365 feature public cloud storage integration that allows multiple users to edit documents and track revisions real-time easily. Online whiteboard and presentation software platforms like Prezi, Conceptboard, and Scribblar also allow teams to develop ideas collaboratively and deliver presentations as a group.
Get Better Insights with Omnia Assessments
While technology may never be the same as face-to-face interaction, it can help teams and clients meet, connect, and remain productive from anywhere in the world. Of course, remote collaboration tools are only as effective as the leaders who implement them. Unless effective strategies for managing remote teams accompany them, their impact on team performance will be limited. Behavioral and cognitive assessment data can provide helpful guidance when it comes to identifying the specific needs of remote employees.
Administered as part of the pre-employment hiring process or as a tool for professional development, Omnia assessments are independently validated as 93% accurate and free of bias forms. Our team constantly works to adapt to the latest tools, technologies, and testing methodologies to provide you with the best possible insights for employee assessment. Contact us today for a consultation about your company's specific assessment needs.
As more employers shift to a remote workforce, managers look for ways to manage their teams more effectively. Whether a company is hiring new employees or transitioning workers into a remote context, having easy-to-interpret, actionable data about behavioral tendencies and cognitive traits provides leaders with an invaluable resource for developing a remote management strategy.
When it comes to obtaining this data, there are few methods more effective than employee assessments. The benefits they provide are well worth the effort to implement them!
What Are
Employee Assessment
s?
There are a few different categories of employee assessments that organizations use to gain greater insight into their workforce. Often administered early in the hiring process, job assessments are an invaluable tool for gathering information about a candidate's cognitive abilities, behavioral tendencies, and skill competencies. For existing employees, assessments tend to focus on developmental needs, identifying areas they need to grow and better contribute to the organization.
Most employee assessments take the form of a short test, usually completed in ten to thirty minutes, and the employer receives the results. The results are compared to pre-defined scoring ranges established by the employer. This data makes it easy to analyze candidates objectively during the hiring process and help identify tendencies or deficiencies that may not appear during the interview process.
Although they use the same terminology, test-based employee assessments aren't the same as a more general employee assessment. The latter is more akin to a performance evaluation, which combines objective performance metrics (often called key performance indicators or KPIs) with a more subjective evaluation of an employee's job performance. While such reviews might incorporate employee development assessments to evaluate what skills an employee has gained or needs to improve upon, these tests are just one component of a more holistic evaluation process.
However, it's important to note that pre-employment testing benefits are useful beyond the hiring process. The data can provide actionable insights that help leaders manage their teams more effectively over time. 
Can You Conduct
Employee Assessment
s Remotely?
Yes. Most employee assessments are administered online. One of the benefits of pre-employment testing is that it is less vulnerable to bias. Rather than spending excess time and resources, employers can focus on a select group of highly qualified applicants.
How to Apply Insights Gained from
Employee Assessment
s—
Managing a team remotely is a new challenge for leaders accustomed to overseeing employees working in a physical office. Remote teams have different communication needs, building trust and fostering a collaborative work environment. Fortunately, much of the assessment data gathered during the hiring process can be quite valuable when managing a remote workforce.
Cognitive testing provides insight into how well people learn from experience, adapt to new situations, and comprehend new concepts. This data can indicate which employees will function independently and which will need more hands-on direction. It can also reveal which employees are more likely to communicate effectively, which will be invaluable for any leaders looking for people who can take on some management-related tasks.
On the other hand, behavioral assessments can provide insights into employee motivation and the best ways to manage remote employees. This data shows how assertive an employee is, what communication styles are most effective, the pace at which they operate, and how much structure they need to perform at a high level. It can also identify potential sources of conflict. If one employee is prone to frustration and anxiety, pairing them with more aggressive tendencies could be a recipe for disaster.
Get the Most From Your
Remote Workforce
with Omnia
Employee Assessment
s
With over 30 years of experience in helping companies optimize and improve their workforce, The Omnia Group offers a range of scientifically validated employee assessments that can provide tremendous insights. Fully compliant with EEOC/ADA guidelines, our proprietary assessment tools are free of age, race, gender, and cultural bias. 
To learn more about how the Omnia Profile can help your business evolve its hiring and management process, contact our team today for a consultation.
Filling an open position is often a much more complicated process than organizations expect. Even if the hiring manager has a good description of the job, the responsibilities it entails, and a picture of what an ideal candidate would look like, they must still sort through applicants and find the candidates who seem best suited for the role. And that's before the interview process even begins.
The pressure to expedite the hiring process has led many organizations to turn to pre-employment testing. Used properly, pre-hire assessments can make it easier to manage candidate pools and make the right hiring decisions.
What is a
Pre-Employment Testing
?
Organizations use various pre-employment testing types to quickly gather information from a candidate that might not otherwise be revealed in an interview situation or by reviewing a resume. The data collected from a pre-employment assessment makes it easier for hiring managers and organizations to decide which candidates would be best suited for a position. Used properly, pre-employment testing can help to reduce bias, identify qualities that might otherwise go unnoticed, and assess development potential.
Of course, it's always worth mentioning that pre-hire assessments like a cognitive ability test or a personality test for jobs (instead of a more general personality test not designed for business applications) are most effective when supplementing a robust hiring process rather than replace one altogether. While they're typically administered before the initial in-person interview, these assessments generate data that can be used at every stage of hiring and recruitment. 
How Can
Pre-Employment Testing
Expedite Your
Hiring Process
?
According to SHRM's 2017 Talent Acquisition Benchmarking Report, the average organization takes 36 days to fill an open position. Every day a position remains open places more strain upon a company in one form or another. Productivity can suffer as the responsibilities associated with a position are distributed to other people, making it more difficult for them to do their jobs effectively. Key decisions can be drawn out, creating delays elsewhere in the organization. Furthermore, the uncertainty associated with not knowing who will be accountable for a specific role can take a toll upon employees and potentially threaten client relationships.
Pre-employment testing allows companies to streamline and expedite their hiring process in several ways. For example, hard skills and cognitive tests are often used as an initial screening tool for weeding out blatantly unqualified candidates. If someone is applying for a position that requires specific technical skills, it's important to know whether they'll be capable of doing the job. While their resume might indicate they have the right experience, that work history might not have prepared them adequately for the work they'd be responsible for (there's also a possibility that they're lying on their resume). Administering a pre-hire assessment will provide data-based evidence of whether or not they can actually do the job. If they can't, there's no sense in moving them along to the next hiring process phase.
Another advantage of pre-employment testing is its ability to generate data that hiring managers can use as the basis for questions throughout the interview process. In many instances, a comprehensive pre-hire assessment can serve the same purpose as an initial phone interview, which rarely produces meaningful insights other than confirming the information provided on a resume. When the hiring manager sits down to conduct a more thorough interview, they will already have specific topics they can focus on rather than wasting half of the interview asking questions to uncover the same information.
Many organizations understandably want to conduct multiple interviews involving different people within the company. Unfortunately, having to coordinate several schedules can complicate the hiring process. An unexpected cancellation can force an employee to wait for days or even weeks before another meeting can be scheduled, which means the company will have to get by shorthanded for even longer. Pre-employment testing can gather much of the information that could be obtained through a brief interview. Those results can be shared with the relevant personnel, potentially eliminating the need for multiple interviews and removing another obstacle between the candidate and the open position.
The Benefits of an Expedited
Hiring Process
Eliminating candidates in the early stages is extremely helpful in expediting the hiring process as a whole. The faster organizations can narrow the field of potential hires down to a manageable list, the more quickly they can conduct the necessary interviews and background checks to make a final decision. This is especially important for companies that don't have a strong succession pipeline to identify and prepare high-potential internal candidates to step into key roles should they become vacant unexpectedly.
While many organizations can "get by" when a key role goes unfilled if the position is left open for too long, the pressures of covering the gap can cause dissatisfaction among other employees. In a worst-case scenario, the company may end up hiring someone after a prolonged process only to find that another key contributor has decided to leave due to the frustration of being forced to do someone else's work. By keeping the hiring process as short and efficient as possible, disruptions caused by vacancies can be kept to a minimum.
Streamline Your
Hiring Process
with Omnia!
Whether you're looking to administer a personality test for jobs or cognitive ability tests as part of your hiring process, The Omnia Group has a scientifically proven pre-employment assessment that will fit your organization's specific needs. While the Omnia Behavioral Assessment may be our most popular form of pre-hire testing, we also offer cognitive assessments, grammar assessments, and even development assessments that help give you an idea of what a candidate is looking for in career development.
With easy-to-read graphics and attentive support and guidance from our knowledgeable staff, each assessment report provides your organization with a wealth of information that makes it easier for you to make the right hire at the right time for the right reasons. To learn more about our customizable assessment solutions, contact our team, and transform your workforce today.
Do you know what motivates your employees to come to work every day? If you don't have an answer to that question, there's a good chance that you don't have the workplace strategies in place to ensure that your workforce remains engaged in their tasks. Without using employee assessments of some kind, it can be difficult to determine what's most important to your employees.
The Benefits of
Employee Motivation
in the Workplace
Many organizations take employee motivation and employee engagement for granted, assuming that as long as no one is complaining openly or failing to complete their work, everything is going along just fine. But a lack of motivation can take its toll on a workforce over time, contributing to declining work quality, diminished productivity, and high levels of employee turnover. If employees are only motivated to show up each day to earn their paycheck or avoid getting fired, it will be difficult for the company to find sustainable success.
When employees are highly motivated and fully committed to the organization's mission, they play a major role in reaching its full potential. Motivated employees are more efficient and productive in their work and are more likely to make innovative contributions that deliver positive results and create new opportunities. Engaged employees communicate more effectively and take a more proactive role in their own development.
Discovering What Motivates Employees with Assessments
Of course, not every employee is motivated by the same thing. Some people will be amped up by a pep talk from leadership, while others will roll their eyes if they're expected to ring a bell to celebrate wins. One of the biggest mistakes an organization can make is imposing one motivational style upon every department and employee.
That's where employee assessments can make a huge difference. While pre-employment assessments are a useful tool for identifying whether or not a candidate possesses the core competencies needed to excel in a position, behavioral assessments also provide a more nuanced picture of how they think and what motivates them to come to work every day. Personality assessments are incredibly useful for their ability to identify career opportunities and learning tendencies.
Some of the questions an employee assessment can answer include:
How comfortable are they with risk?

Do they value individual or team recognition?

Are their communication preferences being met?

How do they best feel supported by leadership?

Do they prefer analytical or social tasks for the majority of their day?

Are they comfortable with rapid change, or do they prefer order and predictability?

What sort of instruction and feedback do they find most helpful?
Assessments provide actionable data on what makes employees tick. Rather than making broad generalizations or simply assuming that what motivates one person will work just as well for others, organizations can use assessment data to develop a strategy for motivating employees as unique individuals.
How to Motivate People
Using Insights Gained From
Employee Assessments
There are a few ways that the information gathered from assessments can be used to improve employee motivation.
Empower Them
Finding ways to empower employees to help them do their jobs more effectively is one of the best ways to motivate them. But to do that, organizations first need to know what "empowerment" means to those employees. Some people might work well in a low-information environment, where they're free to make their own decisions and be more accountable for the outcomes. However, others will feel like they're being set up for failure if they don't get the right amount of support and guidance. Understanding how to strike the right balance for every employee is an essential leadership quality. Assessment data can provide a better picture of what each person feels like they need to do the best job they're capable of doing.
Establish Expectations
It's difficult for employees to feel motivated when they don't have a firm idea of what they're supposed to be doing. Unclear expectations leave employees wondering if they're doing everything they need to do to succeed or producing work that contributes genuine value to the organization. Over time, lack of clarity can lead to frustration, disengagement, or even resentment. Employee assessments can provide organizations with a better idea of how people perceive their roles and responsibilities, making it easier to align them with reality. When people have better clarity about expectations, they're more likely to be motivated to meet them.
Recognize Them
No one wants to feel like they're toiling away all alone in a dark room. Employees want to know the work they're doing is valued and appreciated. When people have a good sense of how their efforts contribute to the organization's success, they're more likely to be invested in achieving those goals. But not everyone wants to be recognized in the same way. Some people are motivated primarily by monetary compensation, while others want to see their role treated with the respect they believe it deserves. Understanding the proper way to recognize performance is critically important. For example, simply paying someone more money won't be enough to keep them if they think they're being treated like a replaceable cog in a machine.
Create the Right Culture
Building a healthy workplace culture is important for any organization, but many companies make the mistake of establishing a culture that doesn't reflect the diversity of their workforce. An office that feels like a frat house might be a great place to work for some employees, but it probably isn't the best environment for everyone. When people feel out of place at work, it can be difficult for them to be engaged in what they're doing. Using employee assessments to better understand what kind of environment everyone wants to work in can help organizations build a work culture that reflects its employees' diverse needs.
Discover
How to Motivate People
With Omnia Assessments
For over 30 years, Omnia has helped organizations implement a data-driven approach to hiring and employee development. Our diverse array of employee assessments provide actionable information that can be used to shape development strategies that boost employee engagement and employee retention. From behavioral and cognitive assessments to custom reporting and workshops, the Omnia team has the resources to optimize your workforce fully. Contact us today to learn more about our hiring assessments and employee development solutions.
Hiring a new employee is one of the biggest challenges organizations face regularly. According to research by the Society for Human Resource Management (SHRM), it takes an average of 42 days to fill an open position at the sizable cost of $4,129 per hire. With the average turnover rate around 19 percent, developing strategies that streamline and improve the hiring process and reduce the turnover rate could translate into a sizeable competitive advantage.
That's why many companies are turning to pre-employment testing. By improving the quality of information available to hiring managers, these assessments can help them make better hiring decisions driven by data and ensure that the leading candidates are aligned with their organizational needs.
What is a Pre-Employment Test?
A pre-employment test or pre-employment assessment can refer to any evaluation administered to a job candidate during the hiring process. These tests' purpose is to gain additional information that may not be apparent from a resume or interview. When used in conjunction with traditional evaluation criteria, they can help organizations make much more informed selection decisions when hiring candidates.
Depending upon an organization's needs, pre-employment tests could take several forms that generate very different results, measuring areas like personality traits, cognitive ability, job knowledge, and technical proficiencies. The best assessments are developed by experienced testing professionals and independently validated to ensure both accuracy and replicability.
Benefits of Hiring Assessments
The insights drawn from pre-employment testing can benefit organizations in several ways. Not only does this information help to make better decisions about specific candidates, but it can also be used to streamline and enrich the entire hiring process. Implemented properly, pre-employment assessment can also significantly reduce costs, improve the candidate pool, and boost retention rates. Some of the key benefits of pre-employment testing include:
Pre-Employment Screening
Sometimes a candidate looks right on paper but lacks key behavioral or cognitive qualities necessary to excel in the position they're applying for. While a 30-minute interview might reveal these deficiencies, by the time the candidate reaches that point, they've already taken up a large portion of time and potentially taken the place of another candidate better suited for the job.
With pre-employment testing, hiring managers can screen the candidate pool to ensure that they're spending most of their valuable time with only the most high-potential candidates. This pre-screening not only generates a stronger candidate pool but also allows people who aren't an ideal fit for a position to quickly move on to other opportunities rather than waiting around for a decision.
Improved Interviews
Certain types of pre-employment testing can generate insightful information about a candidate, revealing characteristics and tendencies that may not be evident just from reviewing their resume. This data is invaluable for interviewers, who can use it to create better, more targeted questions that really get at key issues related to the candidate's potential to effectively do the job.
While a good interviewer can certainly develop effective questions based on a resume, having another source of information to draw upon helps them to identify inconsistencies or unique characteristics that are not evident on paper. The pre-employment assessment also saves interviewers time because it allows them to home in on specific topics they want to discuss rather than asking several probing or exploratory questions beforehand.
More Objectivity
Bias is always a challenging problem when it comes to the hiring process. Are you sure that you favor a candidate because they're the most qualified and most likely to excel, or are they your preferred choice? After all, you like them personally? By contrast, you don't want to miss out on an excellent candidate simply because they vaguely remind you of someone you don't like. Unconscious bias, in particular, shows up in a variety of unexpected places.
One of the best benefits of well-designed pre-employment tests is that they provide an objective means of evaluating a candidate. That's because the assessment only focuses on measuring specific skills or characteristics. Since technology makes it possible to administer tests anonymously, hiring managers can review candidates' results in a vacuum before meeting them or even reading their resume. This ensures that they won't be influenced by any number of unconscious biases that often undermine the hiring process and discriminate against many minority applicants.
Fewer Poor Hires
Every employee is different. Each person learns in their own way and responds differently to various environments, organizational cultures, and management styles. Someone who seems like they would be an ideal fit based on their resume and a handful of interviews may lack the personality traits or skills needed to thrive in their new role. Since it takes time to adjust to a new position, it can often take months or even years before it becomes evident that a poor hire has been made. But by that point, the employee is likely so frustrated and disengaged that they're ready to move on anyway.
By investing in pre-employment testing, it's possible to gain a more comprehensive view of what motivates a candidate and what competencies they possess. These insights make it easier to select people who will be a good fit for a role in personality and skill. Better alignment means better retention rates over time, translating into significant savings, and minimizing organizational disruption.
Types of Pre-Employment Tests
Organizations utilize a wide variety of pre-employment tests and often use different names for them, even though they might be assessing the same basic criteria. Generally speaking; however, pre-employment assessments fall into one of three broad categories.
Aptitude Tests
Often referred to as cognitive assessments, these tests measure General Mental Ability (GMA), which has been strongly correlated with job performance.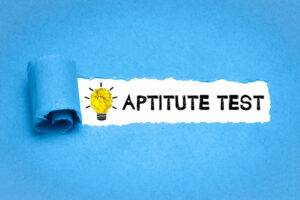 Some of the characteristics evaluated in these tests include the candidate's ability to think abstractly, comprehend new concepts, learn from experience, apply new skills, adapt to new environments and situations, and find the most effective solutions to problems.
While these tests are most often used for low to mid-level professional positions, some organizations believe so strongly in their effectiveness that they require them for even their most senior executives. A candidate who scores well on cognitive ability tests is more likely to complete their training and adapt to changing circumstances and job demands more effectively. Most jobs require people to confront challenges they've never encountered before, which is why the ability to think critically and solve problems quickly is so important when it comes to job performance.
Personality Tests
Available in many different forms, personality tests perform a slightly different function than aptitude tests. While the cognitive assessments seek to measure innate ability quantitatively, personality tests aim to reveal a candidate's unique personal qualities and characteristics. This could include motivations, preferences, and other behaviors that provide a sense of how someone will respond to being in a particular role.
The core traits revealed by a personality test do not typically change over time, which could be good information to have when planning to hire for a position that might conflict with a candidate's behavioral tendencies (such as putting someone with an introverted, timid personality into a competitive and aggressive sales position).
Personality tests for jobs often take the form of behavioral assessments or emotional intelligence assessments. Based on psychometric research, these tests measure things like a candidate's assertiveness, communication style, work pace, and need for structure through an adjective checklist or by asking a series of situational multiple-choice questions. Unlike cognitive tests, there are no right or wrong answers. Instead, the answers are used to gauge how much the candidate exhibits certain personality traits.
Skills Assessment Tests
Distinct from aptitude tests, which measure innate cognitive abilities, skills tests measure a candidate's existing knowledge and current job readiness. Since they do not measure inherent and largely unchanging qualities, they are typically used to screen candidates rather than predict future performance. For instance, if a software developer position requires expertise in a particular coding language, a skill test may be administered to ensure that the candidate possesses the necessary proficiency.
Whereas aptitude and personality tests must be carefully designed to avoid bias and produce independently verifiable results, skills tests tend to be much easier to design and implement. In this sense, they function much like a job assessment test. They are also very effective tools for determining future development needs. There may be some instances where a candidate possesses many of the ideal competencies for a position, scores well on other pre-employment tests, and interviews well, but needs to improve some of their technical skills to excel in their new role.
The Validity of Pre-Employment Testing
The effectiveness of pre-employment testing depends on quite a bit on the design quality of the assessments themselves. There are many testing options available on the market today, ranging from comprehensive and scientifically rigorous assessments to more simplistic tests that often weren't even designed to be used for hiring purposes in the first place. For example, many companies still use the popular Meyers-Briggs Type Indicator Test, which was never intended to inform hiring decisions. Poorly designed tests are generally easier for people to manipulate, especially when it comes to personality tests. They will often not answer honestly, answering they "think" they should give. Well-designed assessments can account for this problem, so it's important to ensure that a pre-employment test is created using best practices from a methodology standpoint before implementing it.
Pre-employment testing is not a perfect indicator of future performance. Still, it is often far more accurate than a hiring process that relies upon "gut instinct" or straightforward interviews and resume reviews. They are especially effective when different tests are used in conjunction with one another and integrated into the hiring process as a whole. By providing additional information and data points, they improve the likelihood that you will make a sound hiring decision in the end.
The Legality of Pre-Employment Testing
Employers always have to be careful when implementing pre-employment testing of any kind. While it is legal for companies to administer tests and perform background checks, they must ensure that the tests are non-discriminatory and properly administered. Test results may not be used to discriminate based on race, sex, religion, disability, nationality, or age. Any test administered must also relate to the job in question. One exception to these legal standards is a polygraph or "lie detector" test against the law thanks to the Employee Polygraph Protection Act (EPPA) of 1988.
How to Implement Pre-Employment Testing in Your Organization
The first step in implementing pre-employment testing in the hiring process is determining which form of assessment to use. While any single test will provide helpful information, pairing cognitive and behavioral assessments together produces a much more comprehensive candidate view. Using more than one assessment is also recommended because it allows you to administer them at different points of the hiring cycle.
You will need to identify the minimum target score you need an ideal candidate to possess for cognitive assessments. It's also important to familiarize yourself with the test reports to understand what you're looking at when evaluating a candidate. There may be some aspects of the test, for instance, that are more important than others, so simply looking at a raw score may not tell you the entire story.
When it comes to behavioral assessments, you must select the most necessary traits for success in a particular role. This is usually determined by evaluating your existing top performers to establish a baseline of sorts. Testing multiple people will also give you an idea of how different personality traits can thrive in those positions, which will prevent you from honing in on a single personality archetype when evaluating candidates.
Pre-employment testing can be a valuable tool for an organization looking to make more intelligent hiring decisions driven by data. Given the high costs of onboarding and turnover, companies are under immense pressure to hire the ideal candidate, the first time. With the insights derived from cognitive and behavioral assessments administered throughout the hiring process, you can better identify which candidates will be the best fit for a position in skill, personality, and ability.
Remember the old days when people could only interact with businesses over the phone or in-person and most mailings were stuffy form letters? After booting up Word Perfect for DOS, you would painstakingly type your message and then drive the floppy disk over to your neighborhood print shop. That was a lot of work!
Now, there are chat systems, texts, emails, blogs, websites, and an increasing array of social media platforms. In today's global community, there are countless opportunities to reach out to your customers and prospects both near and far. With communication methods constantly evolving, it is easier than ever to engage with customers, build relationships, and stay visible. Being top of mind when it matters most is priceless.
All of these options help you respond to needs and make customer contact quicker and friendlier. You can be with them wherever they are and whenever they need you. You have more freedom to show customers your company's personality and more availability to offer quick service, which can lead to customer loyalty, referrals, and repeat business. Unfortunately, most of these innovations have one major drawback: they make it easier to broadcast grammatical mistakes, typos, and other embarrassing mishaps that can be preserved for years for the public to see, comment on, and maybe even make memes of – you've now gone viral but not for the reason you wanted!
Most people expect and accept an occasional typo or grammatical error, especially in informal communications. However, if they are frequent or glaring, they can reflect poorly on your business and hurt your credibility. Anyone can make mistakes, punctuate something incorrectly, or use the wrong word if they hurry or try to do too much at once. Anyone can have a bad day. The real problems come when someone just doesn't know the rules.
Maybe they think quotes are for emphasis and don't realize they sound sarcastic:
We have the "best" customers!
Maybe they're not quite sure how apostrophes work:
We have the best customer's!
They could find contractions or homophones a little challenging:
Your going to love are company!
These are the types of mistakes that can be repeated over and over in customer interactions. Some people may not notice or care, but some definitely will, and the errors could be a mark against your company.
It can be hard to tell if a potential new hire is comfortable with the rules of grammar. Yes, occasionally candidates will send in resumes and cover letters riddled with mistakes, and that's a pretty dead giveaway. Most people are more careful at the start, though. They run spelling and grammar checks and have people proofread their work. These candidates understand the need to be careful with grammar but may not have the skills you want. But how do you know? That's where Omnia comes in.
Also Popular: Deliver a Painless 90 Day Employee Performance Evaluation
The new Omnia Grammar Assessment is a simple tool that evaluates an individual's knowledge of basic grammar concepts such as punctuation, spelling, and verb usage. It can help you identify potential problems from the start and shape your hiring decisions. Even if the job requires only minimal writing, the assessment results can help you establish a training or professional development plan for the employee. If the position involves a great deal of writing, you want someone who can consistently follow the rules when composing emails, reports, letters, whitepapers, blogs, or social media posts or providing online chat support.
If you're thrilled about a candidate or want to promote an employee who doesn't score high (their potential is there, and they're otherwise impressive), you can use the results as a training opportunity. After all, grammar is just a bunch of rules, and rules can be learned. The Omnia Grammar Assessment is another tool to help you find and shape your most important assets - your employees.